Spring 2018
A Message from the Chief Science Officer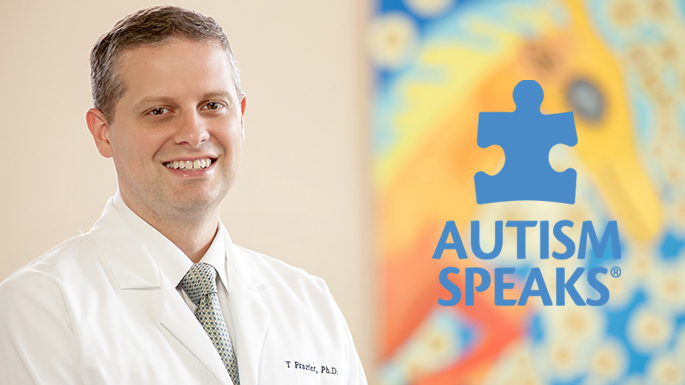 As we celebrate World Autism Awareness Month, I'm pleased to share the good news of the U.S. Food and Drug Administration's recent embrace of the autism community's priorities for new treatments. In a new report, the FDA distills the perspective it gained from a 2017 public meeting on "Patient-Focused Drug Development in Autism." As the father of a son affected by autism, I enthusiastically participated in this meeting and gained new perspective from other participants including self-advocates.
In addition, this issue of Autism Speaks Science Digest highlights the promising findings of several pilot studies of practical interventions that can be delivered by parents, teacher aides and other non-specialists. I see their success as illustrating what Autism Speaks does best: Providing crucial early support to scientifically evaluate novel approaches to meeting the needs of people with autism.
By investing in the early stages of research, we enable investigators to demonstrate the promise of new approaches. This is key to gaining major funding (from government agencies or commercial interests) to conduct the large clinical trials required to fully evaluate a new therapy and bring it into widespread use.
Sincerely,



Thomas Frazier
Video feedback training for parents of babies at risk for autism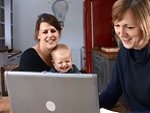 Last year, researchers at the University of Manchester reported on the lasting benefits of a small study using video feedback to show parents how to foster social engagement and communication with babies at high risk for autism (because they had older siblings on the spectrum). Two years later, the researchers found that the children whose parents received the training (called iBASIS) had significantly milder autism symptoms compared to a matched group of children whose parents didn't receive it. Autism Speaks helped fund that pilot study.
Based on its positive results, the researchers now have funding for a much larger replication trial in Australia. "The results will be out in summer," says lead researcher Jonathan Green. "Assuming they're supportive we plan to start general training on iBASIS [for autism therapists] in September." Learn more
Caregiver Skills Training for parents and community workers
In consultation with Autism Speaks, the World Health Organization (WHO) developed the prototype of its Caregiver Skills Training Program for Families of Children with Developmental Disabilities. This evidence-based early intervention program trains community facilitators who in turn coach parents and other caregivers to use proven strategies to engage their children through play. The goal is to foster communication and learning.
The program is not meant to take the place of autism interventions delivered by professional therapists. Rather it's designed to address unmet needs in underserved communities. In partnership with the WHO, Autism Speaks public health team is currently helping more than 30 countries and communities conduct pilot studies and adapt the program (formerly known as Parent Skills Training) to fit their cultures and needs. This includes two Caregiver Skills Training programs in the U.S. — one in New York City's Chinese immigrant community and another in a largely minority community in Newark, New Jersey. Read more

Preschoolers with autism gain when teachers foster shared attention
Autism Speaks has long supported the highly successful research of psychologist Connie Kasari, of the University of California, Los Angeles. Dr. Kasari's work focuses on creating and evaluating behavioral therapies that improve social and communication development in children who have autism, as well as toddlers who show early signs of the disorder.
In particular, Dr. Kasari is known for developing therapies that work effectively in real-world settings such as the home and classroom. As part of this work, she has designed and tested methods for use by non-specialists such as parents and teacher aides. Thanks to the success of early pilot studies funded in part by Autism Speaks, Dr. Kasari's research team has received more than $10 million in funding from the National Institutes of Health to expand these programs in schools serving underserved communities in Los Angeles, the Bronx and elsewhere. Read more
Upcoming webcasts and meetings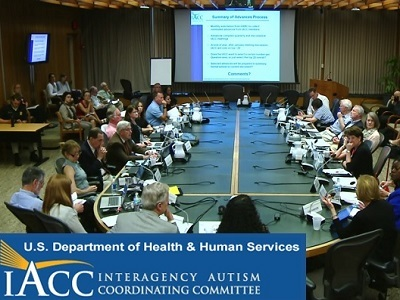 The Interagency Autism Coordinating Committee (IACC) will hold its next quarterly meeting Thursday April 19, in Bethesda, Maryland, with a public comment period and live full-day webcast both open to the public. The IACC coordinates federal efforts related to autism. Autism Speaks encourages members of the autism community to participate and make their views known. Learn more and register to provide public comment here
Advances in Autism Research & Care is a free, monthly webinar series sponsored by the Autism Speaks Autism Treatment Network (ATN) in its role as the Autism Intervention Research Network on Physical Health (AIR-P). Aimed primarily at healthcare providers, the webinars are open to the public, with a special welcome to members of the autism community.
Upcoming webinars include: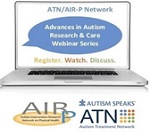 Advocacy and Autism: Thursday April 19 from 3 to 4 pm Eastern Register here.
Autism BrainNet (post-mortem tissue donation for autism research): Wednesday May 30, from 1 to 2 pm Eastern Register here.
View our complete listings here.
Recently published studies supported by Autism Speaks and its Autism Treatment Network
This research is made possible by the passion and generosity of our volunteers and donors.
Associations between parental broader autism phenotype and child autism spectrum disorder phenotype in the Study to Explore Early Development. Eric Rubenstein, Lisa D Wiggins, Laura ASchieve, et al. Autism. 2018 Jan 29. Online ahead of print (Weatherstone fellowship/AS grant 10052)
Oscillatory rhythm of reward: Anticipation and processing of rewards in children with and without autism. Stavropoulos K, Carver L. Mol Autism. Online 30 Jan 2018 (Weatherstone fellowship/AS grant 7844)
Associations of gross motor delay, behavior and quality of life in young children with autism. Hedgecock JB, Dannemiller LA, Shui A, Rapport MJ, Katz T. Phys Ther. 2018 Jan 9. Epub ahead of print (ATN Patient Registry)
Parent-Reported Use of Interventions by Toddlers and Preschoolers with Autism Spectrum Disorder. Payakachat N, Tilford JM, Kuhlthau KA. Psychiatr Serv. 2018 Feb 1;69(2):186-194. (ATN Patient Registry)
Cognitive enhancement therapy for adult autism spectrum disorder: Results of an 18-month randomized clinical trial. Eack SM, Hogarty SS, Greenwald DP, et al. Autism Res. 2017 Dec 27. Online ahead of print (AS grants 5703 and 8568)
Psychometric characteristics of the mental health crisis assessment scale in youth with autism spectrum disorder. Kalb LG, Hagopian LP, Gross AL, Vasa RA. J Child Psychol Psychiatry. 2018 Jan;59(1):48-56. (AS grant 8790)
Characteristics of psychiatric emergency department use among privately insured adolescents with autism spectrum disorder. Kalb LG, Stuart EA, Vasa RA. Autism. 2018 Jan. Online ahead of print (AS grant 8790)
Factors associated with DSM-5 severity level ratings for autism spectrumdisorder. Mazurek MO, Lu F, Macklin EA, Handen BL. Autism. 2018 Feb 1 (ATN/AIR-P)
Objective measurement of head movement differences in children with and without autism spectrum disorder. Martin KB, Hammal Z, Ren G, et al. Mol Autism 2018 Feb 27;9:14 (AS grant 1876)
Broader autism phenotype in parents of children with autism. Rubenstein E, Chawla D. J Child Fam Stud. 2018 Feb 22. Online ahead of print (Weatherstone fellowship/AS grant 10052)
OTUD7A regulates neurodevelopmental phenotypes in the 15q13.3 microdeletion syndrome. Uddin M, Unda BK, Kwan V, et al. Am J Hum Genet. 2018 Feb 1;102(2):278-295. (MSSNG)
Altered TAOK2 activity causes autism-related neurodevelopmental and cognitive abnormalities through RhoA signaling. Richter M, Murtaza N, Scharrenberg R, et al. Mol Psychiatry 2018 Feb 21. Online ahead of print (MSSNG)
Modification of the Children's Sleep Habits Questionnaire for children with autism spectrum disorder. Katz T, Shui AM, Johnson CR, Richdale AL, Reynolds AM, Scahill L, Malow BA. J Autism Dev Disord. 2018 Mar 2. Online ahead of print (ATN/AIR-P)
Neural mechanisms of behavioral change in young adults with high-functioning autism receiving virtual reality social cognition training: A pilot study. Yang DYJ, Allen T, Abdullahi SM, et al. Autism Res. 2018 Mar 8. Online ahead of print (AS grant 9284)
An Exploratory Trial of Transdermal Nicotine for Aggression and Irritability in Adults with Autism Spectrum Disorder. Lewis, AS, van Schalkwyk GI, Lopez MO, et al. J Autism Dev Disord. 2018 Mar 13. Online ahead of print. (Meixner fellowship/AS grant 9699)
Air Toxics in Relation to Autism Diagnosis, Phenotype, and Severity in a U.S. Family-Based Study. Kalkbrenner AE, Windham GC, Zheng C, et al. Environ Health Perspect. 2018 Mar 12;126(3):037004: 1-12. (AS grant 7785)